Cutting Wedge® Classic Acoustic Foam Panels
CUTTING WEDGE® CLASSIC can be installed to create seamless absorptive walls, and enhance imaging by reducing unwanted reflections in broadcast and recording studios or other critical listening environments.
Prevent destructive specular reflections from distorting or coloring the sweet spot.

Eliminate room modes, comb filtering, standing waves and undesirable specular artifacts.

Attenuate sound pressure buildup at room boundaries (where walls meet walls).
Cutting Wedge® Material Components:
Open Cell Polyurethane Foam:
Density: 2 pound cubic foot

Flammability: Meets UL94HF-1

Flame Spread = 95

Smoke Density = 340

Tensile Strength = 20 PSI

Can be installed using a construction adhesive
that is approved for foam.
Cutting Wedge® Classic is Available In:
Sizes:
2", 3", 4" thicknesses.
Available in 1'x1' and 2'x4' Sheets.

Click photo for larger view: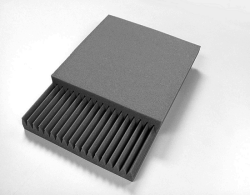 Cutting Wedge® Classic - 1'x1'