StratiQuilt™ Fiberglass Blankets are used to improve speech intelligibility. The quilted fiberglass material is available in single or double faced configurations. One combines BlockAid® noise barrier performance with efficient sound absorption for barrier blankets that are tough on sound. Use this material to create sound proof enclosures or add sound absorption around noisy machinery and equipment.

Quilted Fiberglass rolls and panels are available in the following configurations:

SQ122 (Facing on one side)
SQ124 (Facing both sides)
SQ125 (Facing both sides with 1.0 lb sq. ft. Septum)

This lightweight, semi-flexible, easy-to-handle material is a vinyl coated, grey colored fiberglass facing cloth, quilted to a 2 lb./cu. ft. density fiberglass. This durable vinyl-coated fiberglass facing resists oils, grease, moisture, mild acids and alkalis, dirt, dust and salt atmospheres. Facing can be steam cleaned or washed with common industrial cleaners.

StratiQuilt Fiberglass Panels are quilted in a 4" diamond shape, and are fully bound on all edges. No fiberglass is exposed. All panels have standard brass grommets 12" O.C. on top hanging side. Other configurations are available, including straight stitch and black facing or silicone coverings.

The quilted fiberglass material does not accordion fold and should be hung as a suspended panel in areas requiring infrequent access.

Panels are available in widths up to 48" and in standard heights of 6', 8' and 10'. Custom manufacturing is available.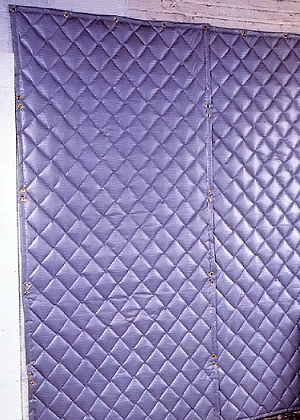 Flame Resistance: Class 1 rated per ASTM E84-70